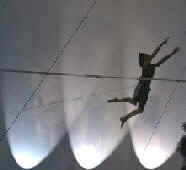 One of THE coolest things that you can do is to swing off a high trapeze, I went to circus school at Byron Bay. If you get the chance just do it!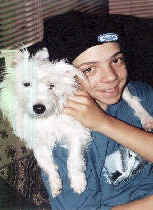 This is my very best mate "Spike" he's a rebel with a lot of attitude. In other words a kewl dude!
Birthday
30/10/85
Star sign
Scorpio
fav. colour
blue
fav. food
hungry jacks

hobbies
go karting, acrobatics, trampolining, running,
swimming

fav. movies
The Patriot, Austin Powers, Scary Movie

pets spike & gypsy (dogs), & scully (cat).
family and
greatest supporters
Mum, Dad, sisters
Jen & Mish & bro Chris.

Up close and personal with "The Bill". I spent 7 months in England and Europe in 1993 visiting my family. It was amazing, would love to come back now I am older.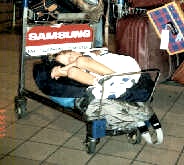 Well ya gotta sleep sometime and I can sleep anywhere. Here I am seen suffering from the travel bug.